2013.04.05 Friday
"The Flipbook Cafe" 2013 Spring
"5to7"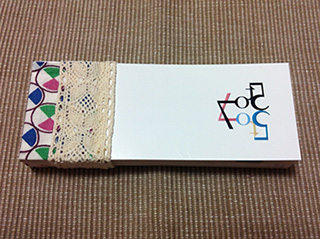 This season's my theme is "5to7" based on 60s french movies.
I'm going to join this exhivition this spring again.
You'll have a good time to see various artists' flip-books at
MOTOYA Book・Cafe・Gallery
, for sure!
Also, a good news is, their flip-book works are available at the gallery as well as seeing them.
I hope you'll find your favorites to get among various forms of flip-books out there.
■ DATE: Apr 9. Tue - Apr 21. Sun 13:00-20:00(not incl. Mon)
■ PLACE: MOTOYA Book・Cafe・Gallery
今季の私のぱらぱら漫画のテーマは60年代仏映画「5to7」。
ぱらぱら漫画喫茶展に今年の春も参加しますよ。
この展示では、様々な作家さんの作品を楽しんでいただけます。
また、今回の展示会場「
MOTOYA Book・Cafe・Gallery
」では、ぱらぱら漫画の販売も行っています。いろんな作家さんの様々な形の作品の中からお好きな1品を見つけていただけたらうれしいです。
■ 日時: 4/9(火) - 4/21(日) 13:00-20:00(月曜定休)
■ 場所: MOTOYA Book・Cafe・Gallery